RADIO NEWS
THE LATEST ON AM, FM AND SATELLITE BROADCASTING
________________________________________________


NABOB calls again for Arbitron to delay rollout of portable people meters

8-20-07

<![if !supportLineBreakNewLine]>
<![endif]>

KPWR personality Big Boy signs deal for syndication with ABC Radio Networks

8-9-07

<![if !supportLineBreakNewLine]>
<![endif]>
Radio One appoints Barry Mayo president of the company's radio division

8-8-07

<![if !supportLineBreakNewLine]>
<![endif]>
Radio One announces Scott Royster to leave the company by year end

8-7-07

<![if !supportLineBreakNewLine]>
<![endif]>
FCC seeking more comment on minority broadcast ownership proposals

8-6-07

<![if !supportLineBreakNewLine]>
<![endif]>

Radio One reports loss in second quarter, mostly from its LA-based station

8-3-07

<![if !supportLineBreakNewLine]>
<![endif]>
Anheuser-Busch's Tony Ponturo to give keynote at Power of Urban Radio event

8-1-07


<![if !supportLineBreakNewLine]><![endif]><![if !supportLineBreakNewLine]> <![endif]><![if !supportLineBreakNewLine]><![endif]><![if !supportLineBreakNewLine]> <![endif]><![if !supportLineBreakNewLine]><![endif]><![if !supportLineBreakNewLine]> <![endif]>
Steve Harvey returns to radio with national distribution through Clear Channel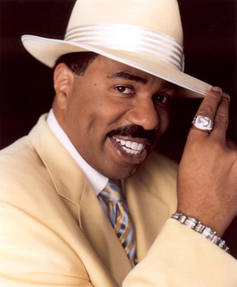 (Sept. 8, 2005)
Television and radio personality Steve Harvey has returned to the airwaves with his brand new radio show, "The Steve Harvey Show," will originate from ICBC Broadcast Holdings, Inc.'s WBLS-FM in New York, and will also be carried on WSRB-FM and WYRB-FM Chicago, during the daily morning-drive.

Harvey is no stranger to radio. In 2000, Harvey hosted the #1 radio show in the Los Angeles market, "The Steve Harvey Morning Show" on 100.3 FM The Beat. His new daily radio show will showcase Steve's natural comedic talents with compelling features, rotating characters and unfettered celebrity access.

"I can't wait to get back on the air and back to my fans," said Harvey. "I promise a radio show that will be huge!"

"Steve Harvey has demonstrated his ability to produce compelling radio time and again," said Tom Owens, executive vice president of new content development for Clear Channel Radio. "We're excited Steve has chosen Clear Channel and Premiere to partner with him in making this outstanding morning-drive product available nationally."

Radio One signs with Katz Media for national ad sales representation
(Sept. 6, 2005) Radio One, Inc.announced today that it has entered into a contract with Katz Media for national advertising sales representation. Under the terms of the agreement, Katz will represent the Company's entire portfolio of 69 radio stations in 22 markets.
In conjunction with this transaction, Radio One may need to take a non-cash charge in the third quarter of 2005 to reflect the termination payments Katz will make to the other national sales representation firm with which the Company had previously done business. The future operating expenses of the Company will be reduced by the amount of this charge over the life of the contract with Katz.
Radio One's CEO and President, Alfred C. Liggins, III, said, "We are excited to expand our partnership with Katz Media. Over the years they have proven to ably represent approximately half of our station portfolio. This new Agreement expands their responsibilities to our entire portfolio. We look forward to Katz's historical successes carrying over to these additional radio stations."
Radio One, Inc. is the nation's seventh largest radio broadcasting company (based on 2004 net broadcast revenue) and the largest radio broadcasting company that primarily targets African-American and urban listeners.
Tom Joyner:
Marketing to the masses tends to miss many


By Erik S. Lesser
USA Today
(August 15, 2005) Those who assume that African Americans who are both middle age and middle class watch pretty much the same movies and TV programs and read the same newspapers and magazines as do their white counterparts do so at their own peril. Try this experiment: Go around the workplace and say the name "Tom Joyner."

When USA TODAY corporate management reporter Del Jones did that, white colleagues gave him an unknowing stare, while black colleagues lit up in recognition. Joyner reaches 8 million nationwide on 115 radio stations. His listeners average 40 years in age and have an average household income of $48,500. As the African-American market closes in on $1 trillion a year in spending power, Joyner warns that many companies have yet to figure out how to capture it.

Q: What is the biggest single mistake companies make with African-American consumers?

A: They think they can reach them through mainstream advertising. That's a huge mistake.

Q: I'm white. Am I really so different than my African-American colleagues that advertisers can't reach us both with the same commercials on the same programs?

A: They can, and it works up to a point. But they could have so much more if they specifically and unashamedly direct their efforts to an African-American audience. This strategy goes back 50 years when Ebony magazine convinced advertisers to use black models in their print ads. To this day there are generations of black people who are loyal to some of those brands. As a people, that's the way we are, and we've got a whole lot of money. Black people fly and love to fly cheap. Southwest Airlines advertised unashamedly on my show and with my endorsement and did things like recognize Black History Month at their gates. They went right after us.

Q: Are advertisers that have in the past targeted only upscale white consumers starting to target the upscale African American market?

A: Yeah, we've done a cruise for six years. The average price is like $3,500 a person not including airfare, and we sell out. Seventy-five percent of the people on the ship haven't cruised before. Why not? Are they afraid of water? No. No one's asked. Royal Caribbean understands that now. They use a black agency to advertise to the African-American consumer, and they get a lot of black people on their ships.

Q: Do companies have a right to target only white consumers, or should you expose them on your program?

A: Expose them as stupid? We can't do that, we can't really go after and expose companies, not and remain a media company.

Q: I was listening to your show on the Washington, D.C., affiliate and a local car dealership commercial promised to waive credit checks for car buyers. That's a pitch that I have not heard on the stations I listen to, and it seemed to make the assumption that African Americans have lousy credit. Aren't they offended?

A: No. We do have bad credit. That ad is good business. They're inviting the African-American audience to do business with them.

Q: I'm not understanding this. The car dealership is assuming your listeners do not pay their bills, and that's OK?

A: You can have bad credit by having a certain ZIP code. We need some credit.

Q: I'm starting to see. Your listeners take no offense because African Americans see bad credit to be discrimination. The dealership is not being offensive, but rather positioning itself as fixing the inequity?

A: We face redlining and profiling. You need a car and you ain't got no credit. What's wrong with a guy inviting someone to buy a car and he's going to waive the credit check? No one else will.

Q: It seems that African-American women are portrayed in advertising as sassy. In a Budweiser campaign African-American men greeted each other with "Whassup?" Aren't these stereotypical portrayals the modern-day equivalent of Aunt Jemima and Uncle Ben?
A: No. Not in an ad. The Whassup ad was not directed at the African American, but at the mainstream audience. What you call sassy is nothing more than going after that hip-hop generation, an attitude which crosses all ethnic lines. It's not black people who are keeping hip-hop alive.

It's not the same as Aunt Jemima ads when you had Hambone and "Yessir, boss, try my biscuits." It's not the same. This is just pop culture.

Q: You don't seem to find any advertising directed at the African-American market offensive.

A: Hmmmm. The Psychic Friends Network went after broke people who have problems.

Q: What about McDonald's? They made news when young African-American actors said, "I'd hit it," which suggested in hip-hop slang that they'd like to make love to a double cheeseburger.

A: Again, that's not directed at an African-American market. It's pop culture. Hip-hop is worldwide. There were probably a lot of sensible black people who thought it was offensive, but it wasn't as bad as the president of Mexico saying that Mexican people take the jobs that black people don't want.

Q: African-American ad agencies are complaining that too much of the diversity dollar is redirected to the Hispanic market. Are companies making a mistake?

A: No. That's very smart, and I understand. They have to specifically reach out to the Hispanic market. They don't always understand the same is true for us. Look at all the black advertising agencies that have folded in the last couple of years because they are targeting us through mainstream agencies. I don't see anything racial in it. They are just being stupid and making a huge mistake.

Q: Other than Southwest Airlines, what companies have figured out how to advertise to the African-American market, and what do they do right?

A: Did you get a list of our advertisers? McDonald's is one. They know how to do it. They sponsor things on my show like our black history fact. They show an interest in our culture and our community. It's not enough to light up the arches and open up the door.

Q: Some magazines publish lists like The Best Companies for African Americans. Those magazines are fat with advertising from the companies on the list. The perception is that companies that advertise make the list. Corporate diversity officers call this "pay to play." Shouldn't such lists be for those who hire and promote African Americans?

A: It's not a shakedown. If you are going to be one of the best companies for African Americans, you should advertise to African Americans.

Q: Momentum in advertising is shifting toward the Internet. Are companies making any big mistakes in how they market to African Americans online?

A: We're making money on BlackAmericaWeb. Yeah. I think that everyone who comes to BlackAmericaWeb, or our competition BlackVoices and BlackPlanet, are very smart. We are on the Internet. We're making money. Don't let anyone fool you that black folks aren't on the Internet. Oh, yes we are. ... And it's paying off.
Jesse Jackson meets with Sirius on plans to cancel The Word Network from lineup

(August 12, 2005) The Rev. Jesse Jackson, host of The Word Network's program, "Rainbow Push with Jesse Jackson," Lewis Gibbs, vice president of operations for The Word Network, and John Mattiello, The Word Network's director of marketing, met in New York with Sirius Satellite Radio's Vice President of Programming Jay Clark to hand-deliver more than 15,000 cards protesting Sirius' decision to end Word Network broadcasts when the current contract expires on September 2.

Following the meeting, three members of the Congressional Black Caucus, Elijah E. Cummings (D-Md.), the immediate past chair, Rep. Corrine Brown (D-Fla.) and Rep. Albert R. Wynn (D-Md.), asked Sirius Satellite Radio (Sirius) executives not to cancel The Word Network. The CBC members cited the Federal Communications Commission's original intent for satellite radio: to serve the public interest.

"We view the availability of family-oriented programming such as The Word Network as consistent with the promotion of the FCC's public policy objectives," Cummings and Wynn wrote in one letter. "The Word Network is truly unique in this respect, as it is the only network providing family value programming specifically oriented toward urban ministries and the African-American community."

The decision to cancel The Word Network comes as the satellite radio operator is gearing up to add shock jock Howard Stern to its program lineup next year. During the private meeting, Clark told Jackson and Gibbs that Sirius had also cancelled two other minority channels.

"We're certainly going to explore why they are silencing minority voices," Gibbs said. "Our request is simple: if Sirius can make room for the values Howard Stern represents, we'd also like them to make room for the values we represent. Sirius has a slice of the public airways and therefore has a responsibility to serve the public. We had hoped Sirius would decide to serve the public interest as well as their own economic interests. Clearly, we were wrong."

"By taking us off the airwaves," Gibbs added, "Sirius is essentially saying that African-American voices of family values will be silenced from satellite radio."

The Word Network is a five-year-old mainstream media broadcaster for African-American ministries and gospel music that offers religious family programming. It reaches 36 million American households.

Radio One reports 18% growth in second quarter net revenues over pervious year

(August 5, 2005)
Radio One, Inc., the nation's seventh largest radio broadcasting company, last week reported its results for the quarter ended June 30, 2005. Net broadcast revenue was approximately $101.5 million, an increase of 18% from the same period in 2004. Operating income was approximately $46.1 million, an increase of 18% from the same period in 2004.
Alfred C. Liggins, III (above), Radio One's CEO and President stated, "Our first full quarter with Reach Media turned out to be another very good one for Radio One. We handily outgrew our markets and posted solid results across the board. Additionally, in June, we began to execute our stock repurchase program, which we expect to continue in the upcoming months.
"With Reach Media and TV One now firmly in place alongside our radio platform, we think that the Company will start to benefit greatly from the sales, programming and promotional synergies that can be derived from cooperation across these three very powerful brands. I have never felt more optimistic about the future of Radio One than I do today."
The increase in net broadcast revenue resulted from the consolidation of the 2005 second quarter operating results of Reach Media, Inc. and net broadcast revenue growth in many of Radio One's markets, including Atlanta, Charlotte, Cleveland, Dallas, Houston, Indianapolis, Raleigh, and Washington DC. Net broadcast revenue growth in these markets was partially offset by revenue declines in other markets, including Baltimore, Detroit, and Los Angeles.
Urban Radio Communications closes $17 mil. Goldman Sachs, 21st Century deal

Acquisitions of ten radio stations planned
(July 19, 2005) Urban Radio Communications, LLC of Mobile, Alabama announced today that it has received $17 million in equity and mezzanine debt financing from The Goldman Sachs Urban Investment Group and 21st Century Group, bringing the total capital raised to date to $21 million. The new capital will be used to acquire selected radio broadcasting stations and to finance capital expenditures and general working capital needs.

In conjunction with the financing, Urban Radio also announced it has acquired ten additional radio stations: WIMX-FM and WJZE-FM in Toledo, Ohio; WLAY-FM, WLAY-AM, WVNA-FM, WNVA-AM, and WMXV-FM in Florence-Muscle Shoals, Alabama; WACR-FM in Columbus/Starkville, Mississippi; and KBCE-FM and KMXH-FM in Alexandria, Louisiana. With these acquisitions, Urban Radio now owns and operates thirteen radio stations in four markets, principally focused on providing a variety of urban formats in small and mid-size markets in the Southeastern United States.

"This transaction is a transformational event for Urban Radio. We are now poised to grow organically and through additional acquisitions," said Kevin Wagner, Founder and CEO of Urban Radio. "The Goldman Sachs Urban Investment Group and 21st Century Group have a keen understanding of the compelling growth dynamics in the urban radio markets."

By leveraging its expertise across a variety of urban formats, Urban Radio seeks to profit from the strong growth trends in media and advertising targeting African-Americans. Key formats include Urban AC, Mainstream Urban, and Urban Gospel. According to data recently released by Miller-Kaplan, Urban AC is the second fastest-growing radio format in the United States (with a 12.6 percent increase in ad revenue year-to-date, compared to an overall radio ad revenue growth rate of one percent). Additionally, the number of Urban Gospel stations has tripled over the last ten years, with the majority of that listenership concentrated in the Southeast. Urban Radio expects to deliver superior value to its advertisers by becoming the premiere cluster of urban radio assets in each of its markets.

"The Goldman Sachs Urban Investment Group provides growth capital to high caliber, minority management teams. We are excited to extend financial and strategic backing to Kevin Wagner as he pursues growth opportunities throughout the Southeast," said Precious Williams, Vice President, Goldman Sachs Urban Investment Group and a Board Member of Urban Radio. "Urban Radio is well-positioned to take advantage of the strong ad revenue growth in its segment of the broadcasting industry."

"We are delighted to partner with Goldman Sachs in the financing of Urban Radio. Their approach to investing is compatible with ours, and we believe the partnership between our two firms can assist Kevin Wagner and his team in bringing Urban Radio to the next level," said John Ware, President of 21st Century Group and a Board Member of Urban Radio.

As part of the transaction, both companies will place representatives on Urban Radio's board of directors. In addition to Mr. Ware, 21st Century Group will also be represented on Urban Radio's board of directors by Rick Neuman, a prominent radio and private equity industry professional. Neuman, a partner at Hicks, Muse Tate and Furst, was formerly a senior executive at Chancellor Media (which merged with Clear Channel in 2000).

Urban Radio's initial investors included Marv Dyson, Donovan McNabb, Tim Hardaway, and Michael Finley. Marv Dyson was formerly President/General Manager of WGCI-FM/AM and WVAZ-FM in Chicago. A pioneer in urban radio, Marv Dyson hired Kevin Wagner into the radio business as an account executive twenty-four years ago and was an early investor in the company.

Urban Radio Communications, LLC is a radio broadcasting company serving selected small and mid-size markets in the Southeastern United States. Founded by Kevin Wagner, a seasoned radio entrepreneur, Urban Radio currently owns and operates stations in Florence-Muscle Shoals, Alabama; Columbus/Starkville, Mississippi; Alexandria, Louisiana; and Toledo, Ohio.


Clear Channel Radio and 'Black Enterprise' magazine announce partnership
(July 12, 2005) Clear Channel Radio and Earl G. Graves, Ltd., parent company of "Black Enterprise", today announced a strategic relationship to produce financial and lifestyle content serving the African-American business and lifestyle audience.

On August 15, "Black Enterprise" magazine's "Keys to a Better Life" is expected to launch on 29 Clear Channel stations across the country -- including New York City's Power 105.1. The twice-daily report will be introduced by stars from the worlds of music, television, film and sports -- including Alicia Keys, Cedric the Entertainer and Keith Sweat -- and will provide news and information on finance, health, and home buying.

Segment content will be produced and voiced by the award-winning editorial team at "Black Enterprise" and by expert guests. The report is primarily targeted at urban and urban adult contemporary formats.

"For 35 Years "Black Enterprise" magazine has provided a roadmap to serve the financial needs of the African-American community," said founder and chairman Earl G. Graves Sr. "Clear Channel Radio, being a national leader in the development of quality urban programming, serves as the perfect broadcast partner to distribute our message of financial empowerment, health, and prosperity to audiences across the country."

"Clear Channel Radio is committed to providing the highest-quality content to our listeners and Web viewers -- this relationship significantly enhances our service to the African-American community," said John Hogan, president and CEO of Clear Channel Radio.


"Black Enterprise" magazine's "Keys to a Better Life" report will air Monday through Saturday during the morning and evening commutes. Log on to
www.blackenterprise.com
for updates on stations carrying the report.
Steve Harvey resigns as host of morning radio show on L.A.'s KKBT


By Steve Carney
L.A. Times
(May 23, 2005)
After nearly five years of comedy and community activism, Steve Harvey ended his tenure as a morning radio host Friday, signing off his formerly top-rated program on KKBT-FM (100.3), better known as "The Beat."
KKBT general manager Sue Freund said Harvey wanted to give up the grueling schedule of morning radio and spend more time with his family. On Monday, former NBA star John Salley, co-host of Fox Sports Net's "Best Damn Sports Show Period," will take over the program, which airs from 5 to 10 a.m. weekdays.
"His ratings were suffering, but we weren't trying to get rid of him," Freund said. "He'd still be on the air if he didn't want to leave…. Steve Harvey's done a lot for us as a radio station."
KKBT was in the ratings doldrums before Harvey's debut in September 2000. Within six months, his was the top-rated English-language morning show in the Los Angeles-Orange County market. For the winter 2001 ratings, he claimed 4.8% of the audience 12 and older, more than doubling the station's share of listeners for the same time slot a year earlier.
But Harvey's once sky-high ratings have been dropping, and in the winter 2005 ratings — the most recent figures available from Arbitron — his show was tied for eighth place among morning programs.
Harvey couldn't be reached for comment Friday. In a statement released by the station, he said: "My last day on air will be a painful one, and as I close the door on this chapter, please know that the people of Los Angeles have made me a better person, and I thank them for that."
Freund said Harvey was in talks to work on future radio and TV projects with KKBT's parent,
Radio One
Inc. The company, which is based in the Washington, D.C., area, owns 69 stations and co-owns a cable TV network, TV One.
This week the WB network canceled a third season of the variety show "Steve Harvey's Big Time." Harvey, co-star of the 2000 film "The Original Kings of Comedy," last year appeared in "You Got Served" and "Johnson Family Vacation."
Freund said she couldn't pinpoint why Harvey's ratings declined, but radio observers say programs often suffer among local listeners when they syndicate to other markets. Freund agreed that Harvey's show had become more "mass appeal" since it started also airing in Dallas in April 2003. "If you're talking about the Santa Monica Pier, people in Dallas don't care about that," she said.
Harvey had started syndication in Dallas because his family still lives there and he wanted to be able to travel and do the show from there, Freund said. But that also required that he get up at 3 a.m., she said. Harvey asked to cut back his involvement in the Dallas show about two months ago, then soon asked about leaving the show altogether, Freund said.
Click here to read entire L.A. Times story
ABC R
adio in syndication deal with Citadel Broadcasting on 'Michael Baisden Show'
(May 18, 2005)
ABC Radio Networks has announced an agreement to syndicate
The Michael Baisden Show
on up to six urban adult contemporary stations owned by Citadel Broadcasting. The program, syndicated nationally since January 2005, is already heard on stations in five of the top 10 US markets, including New York, Chicago, Philadelphia, Washington and Detroit. It is currently among the highest-rated afternoon drive programs in the New York Metro area.
Citadel Broadcasting has already begun carrying
The Michael Baisden Show
in New Orleans on KMEZ-FM 102.9, Memphis on WRBO-FM 103.5, Charleston (SC) on WMGL-FM 101.7, and Birmingham on WUHT-FM 107.7. More stations are expected to be added in the near future.
"This agreement with Citadel Broadcasting illustrates ABC Radio Networks' ever-expanding multicultural broadcasting presence in communities throughout the United States," said Darryl Brown, executive vice president and general manager of ABC Radio Networks. "As the urban radio landscape continues to thrive, we remain committed to providing our listeners, affiliates and advertising partners with a wide range of dynamic multicultural programming."
"We are delighted to bring Michael's respected voice to our highly successful urban contemporary radio stations and provide him with a platform to reach an even more diverse group of listeners with his informative positive message," said Judy Ellis, chief operating officer of Citadel Broadcasting. "We are proud to partner with ABC Radio Networks to continue the growth of our urban programming."
Radio One's Q1 revenue increase 11% over 2004 to $77 million

(May 5, 2005) Radio One, Inc. today reported its financial results for the first quarter ended March 31, 2005. Net broadcast revenue was approximately $77.0 million, an increase of 11% from the same period in 2004. Operating income was approximately $28.7 million, an increase of 13% from the same period in 2004. Station operating income was approximately $37.5 million, an increase of 10% from the same period in 2004. Net income was approximately $9.7 million or $0.09 per share, an increase from net income of approximately $8.8 million, or $0.08 per share for the same period in 2004.
Alfred C. Liggins, III (above), Radio One's CEO and president stated, "Radio One had a good quarter, although one that started out a bit soft but ended quite strong as we grew faster than our markets by roughly 500 basis points. Also, during the quarter, we completed the acquisition of a controlling interest in Reach Media, Inc., the owner of the Tom Joyner Morning Show and related businesses. Mr. Joyner is
the
leading personality in urban radio and the acquisition of this important content broadens our portfolio of media assets significantly."
"We are cautiously optimistic that the improving signs we saw in the radio industry during the back half of the first quarter will continue through the second quarter and, hopefully, through the remainder of 2005."
"Net broadcast revenue increased to approximately $77.0 million for the quarter ended March 31, 2005 from approximately $69.7 million for the quarter ended March 31, 2004 or 11%. This increase resulted from net broadcast revenue growth in several of our markets, including Charlotte, Cleveland, Columbus, Dallas, Houston, Raleigh-Durham and Washington DC, partially offset by revenue declines in other markets, including Baltimore, Los Angeles and Philadelphia."
Royster says Radio One not interested in print business or Paxson stations


(May 3, 2005) At the recent A.G. Edwards 2005 Media & Entertainment Institutional Conference in Las Vegas, Radio One's executive vice president, Scott Royster, brought the financial community up-to-date on his company's progress and strategies for the future.


Radio One is the nation's seventh largest radio broadcasting company (based on 2004 net broadcast revenue) and the largest company that primarily targets African-American and urban listeners. It owns and/or operates 69 radio stations located in 22 urban markets and reaches more than 13 million listeners every week.
Radio One also owns approximately 36% of TV One, an African-American targeted cable network, in a joint venture with Comcast Corporation and DIRECTV. Additionally, Radio One programs "XM 169 The POWER" on XM Satellite Radio and recently acquired 51% of Reach Media, Inc. owner of the Tom Joyner Morning Show and other businesses associated Joyner.

In comparing how things are different from last year, Royster spoke about the growing benefit of Radio One's acquisition of Reach Media. "It's a wonderful content factory," he said, "and the way that we're looking at our business these days is that radio is a great distribution platform, but without content that allows you to differentiate yourself from an iPod, or from satellite radio or the Internet, you really are becoming a bit of a commodity."

Royster said the company intends to stay the course on acquisitions. "We still love radio and we'll continue to expand in radio. But we're also looking for these other businesses that will very nicely connect in with our radio foundation such that we really do become the dominate company targeting African-Americans across the media landscape."

While the company has interests in cable and satellite radio, Royster dispelled notions that Radio One plans to enter the print media arena. "You're not going to see us get into the newspaper business, or the outdoor [advertising] business. You probably won't see us in the magazine business because we don't like the economics of that business. But there are key, strategic businesses that do make sense for us that we'll continue to expand in.

The recent announcement that Byron Allen has made a bid to acquire the Paxson television stations was actually preceded by consideration from Radio One. "We looked at Paxson a dozen different ways," said Royster, "and maybe we're not smart enough, but we couldn't figure out how to make it happen. Conceptually it would be great to own those assets and do something ethnic [oriented]…We don't like broadcast TV in general, and it's highly unlikely that we would get into it. Whether or not we'll have a competitor in Byron Allen and Paxson for our cable channel [TV One], we think it's highly unlikely."

Royster said he supports the Clear Channel initiative to reduce the number of radio commercials per hour and believes that ultimately it will be good for the industry. "We had a really strong March. Anecdotally, when you talk to people they tell you advertisers are coming over to us because they went to Clear Channel but there were no more 60-second spots to buy, so you've got to go next door to the guy that has the inventory. Every market that we're in, Clear Channel has radio stations."

"I want them to succeed. They, to some extent, are proxy to the industry, and while we'd like to continue to take share from them and beat them at their own game, I think it's in the industry's interest to see them be able to maintain pricing and renew confidence in the [radio] industry."

Click here to hear Scott Royster's remarks at the conference

Tavis Smiley returns to public radio with two-hour weekend program


(May 1, 2005) This weekend saw the return of Tavis Smiley to public radio with the launch of his two-hour program over Public Radio International.
The premiere broadcast featured such luminaries as poet and author Maya Angelou, U.S. Attorney General Alberto Gonzales, Grammy Award-winning singer/songwriter Jill Scott and musician Milford Graves.
Fans of the Smiley's former daily National Public Radio program will recognize such regular contributors as Cornel West, Connie Rice, J.C. Watts, Dr. Ian Smith and Michael Eric Dyson.
The program is currently carried by outlets in New York, Washington, D.C.;
Louisville, Indianapolis, and Washington, D.C.
The entire show can also be heard online at tavistalks.com.


"It's good to be back," said Smiley. "Public radio is the perfect place to have a rigorous exchange on a difficult subject or simply to explore ideas that make you laugh -- and we'll do all of that on my show. Because of the range of guests we invite to the mic, we're in the enviable position of being able to re-introduce the nation to itself. We probe the ideas, the artistry, the poetry of people who create it, and we celebrate those things that make us the same or unique as humans and as Americans. It's definitely good to be back."


Financial support for the program is being provided in part by national underwriters, Wells Fargo Home Mortgage and
Kaiser Permanente.
Stations and marketers both make their case at Power of Urban Radio symposium
(April 28, 2005) Interep's seventh annual Power of Urban Radio symposium held in New York yesterday attracted more than 350 participants who came to hear about what organizers called "The New General Market." (Target Market News was a presenter and one of the event's co-sponsors.)

The liveliest of the day's five sessions featured station executives being questioned by a media buying exec. The panelists were Barry Mayo, senior vice president of Emmis Broadcasting/New York; Zemira Jones, vice president of operations for Radio One; and Charles Warfield, president and COO of ICBC. Rich Russo, senior vice president of the independent media buying service, JL Media, provoked the panelists with questions about urban radio selling practices.

"What I'm noticing is that strong station selling is disappearing," said Russo. "We all know that the best way to sell is to sell your strengths and not your opponent's weaknesses. There's not enough of that going on. I'm not sure that I've seen that much research that is coherent about the urban marketplace."

"I believe that we're training better today," said Zemira Jones. "We have better managers and I believe that we have better leadership. A lot of our sales people, especially our African-American sales people, didn't have jobs [in the industry before]. We end up taking them through that learning curve. But I'll put our sales people up against any format, or any team of sales people. I say that because it's been a hard sell and our people have to be better and they have to come with more information to explain the obvious."

But Barry Mayo responded with what many in the audience seem to be thinking to themselves. "You guys pit us against each other on rate, on content and that always puts us in a position where we have to defend ourselves." The audience applauded.

The exchange went on to look at the long held practice of buyers requesting data from stations without revealing which client the ad buy is for. "Who gets served with that strategy?" asked Jones. "We come with tons of information and you can't even tell us who the client is or what the specs are on the buy." Russo defended the practice of being secretive as necessary for getting competitive pricing.

"If I say to you that I've got a buy in Baltimore for African-American men, 18-34, you would take that 19.7 rating that you're doing and you would try to charge me a $1,000 a spot, where I normally spend $250. Of course I'm not going to tell you [who the client is]. Why would I ever tell you something that's going to give you an advantage and make you charge me a higher rate? We're not big on demo pricing. A spot is a spot is a spot."

Russo's comment clearly struck a nerve. "That comment that you just made – 'a spot is a spot is a spot' – that kind of thinking is a disservice to your clients," said Mayo. "The atmosphere in which a spot runs is important. It can't just be about price."

"My thing as a marketer," said Russo, "is the rate is the rate. If I'm lactose intolerant, they don't sell me milk for 50 cents because I can't drink it. And if I really need milk to survive, they're not going to charge me $12 a gallon. So what I was trying to say is what we've learned from sales people and managers throughout the years is that there is such a thing as demo pricing, and our job is to protect our clients, get them exposure, get them frequency and protect them from getting into that."

"It just can't be that narrow," Mayo countered. "Ultimately it's got to be about matching needs and capabilities. And often the price for that is higher because the ability is higher and numbers don't always tell the story…Price objections melt away in the face of a hot idea, particularly when you're speaking to the client. And sometimes [the agency or buyer] try to block that from happening."

When the conversation turned to urban radio's content and in particular the controversy that comes with hip-hop music and the bluntness of air personalities, the panelists said the audience decides when a station has gone too far.

"I'd rather have the challenge of managing talent like Wendy Williams than have the challenge of managing someone that no one heard what they said or cared about what they said," responded Warfield. "I have been confronted in church, by my pastor, from the pulpit about something that happened on my radio station, I don't know that every other general manager has to face that. We're in the communities that we serve."

New York's Hot-97 hopes it has withstood the heat, awaits Arbitron report
By David Hinkley
NY Daily News
(April 25, 2005)
Radio gets its quarterly report card today with the release of the winter (January-March) Arbitron ratings, and one of the key minidramas will be the duel of the hip-hop morning shows.

Star, a big winner for WQHT (97.1 FM) a couple of years back, is now at WWPR (105.1 FM). At Hot-97, meanwhile, everything was tossed into the air by the ill-advised "Tsunami Song" parody that got comedian Todd Lynn and producer Rick Delgado fired and everyone else except Miss Info suspended for two weeks.

WQHT also made a million-dollar tsunami relief donation, and President Rick Cummings of parent Emmis Radio acknowledged again last week that the station "lost some advertising business and... had some cancellations."

Since then, Hot-97 has tried to get the ads back and the show stabilized. "Most" advertisers have returned, says Cummings, either to the morning show or at least somewhere on the station.

Host Miss Jones returned with an apology and since then the morning show conversation has arguably been tempered, with more emphasis on contests, relationship talk and "phonejacks." But Jones has also made joking references to the "new, responsible morning show" before doing bits that still push the envelope.

Miss Info, who objected to the "Tsunami Song" and had other clashes with Miss Jones, did not come back. She starts her own Saturday show this weekend and she will do her "celebrity drama" in the evenings with Funkmaster Flex.

The morning show now has Julissa doing gossip, with DJ Envy still on the team and music director E-bro sitting in. With E-bro's other jobs at the station, he won't necessarily do mornings forever.

"The morning show is still a work in progress," says program director John Dimick. "It's been going very well and our ratings are up, but we're always looking for ways to make it even better."

The station has in some ways tried to keep the morning show's return low-key. The show was taken off the station's Web site at the time of the controversy, for instance, and still isn't back.

Critics say Emmis never atoned properly for the "Tsunami Song," but ratings have held up, and the company seems guardedly optimistic most listeners and advertisers are willing to move on.

"No matter how many safeguards you have," says Emmis Chairman Jeff Smulyan, "people are going to make mistakes, have bad judgment, say the wrong things. While we were kind of astounded at some of what we thought was piling on, we never lost sight of the fact this was our mistake. People who know us know this is not the culture of Emmis."

Budget signs as sponsor of the Tom Joyner Morning Show 'Sky Shows'
(April 15, 2005) Budget Rent A Car System, Inc. today announced its sponsorship of the Tom Joyner Morning Show "Sky Shows," a series of live remote broadcasts of the nation's #1 syndicated urban morning show. The shows are free to the public and regularly feature a national recording artist or group and the cast and crew of the Morning Show.

Through the end of the year, Budget will offer Tom Joyner Morning Show listeners a discount on weekly and weekend rates while raising money for Historical Black Colleges and Universities (HBCUs). For every completed rental made in connection with the Tom Joyner Sky Show discount promotion, Budget will donate $1.00 to the Tom Joyner Foundation, which helps students continue their education by providing money directly to HBCUs.

Budget will hold a raffle at each of the 20 Sky Shows scheduled this year in cities such as Richmond, Nashville, Houston, Philadelphia, Atlanta, Orlando and Las Vegas, and one lucky attendee from each venue will receive a Budget Travel Giveaway. The prize, valued at $500.00, includes a weekly car rental from Budget and an American Express gift cheque.

"Budget recognizes the growth and buying power of the African American consumer and we are working hard to earn their loyalty," stated Scott Deaver, executive vice president of marketing for Cendant Car Rental Group, parent of Budget. "Through our special relationship with Tom Joyner, we are now able to offer his loyal listener base a great value while providing financial support to the HBCUs that are responsible for educating generations of African Americans."

"This is great news for students attending HBCUs," said Joyner. Joyner's radio show reaches some 8 million listeners in 115 markets. "The partnership will help fulfill our sole mission of keeping students in school at HBCUs."
AURN scores top urban audience spots in latest RADAR report

(April 15, 2004) For the second consecutive RADAR book, American Urban Radio Networks has garnered the first, second and third place rankings among the 47 RADAR-measured networks for the black 12+ average audience. These are, respectively, the American Urban Pinnacle Network, American Urban Renaissance Network and the recently added American Urban STRZ Weekend Entertainment Network.
Among overall U.S. adults for all full-service radio networks, American Urban Pinnacle Network (30 broadcasts) ranks third in Adults 18-49 and 25-54, second in Women 18-34 and 18-49, and first in Women 25-54
(Mon-Sun 6am-midnight).
Commented AURN President E.J. (Jay) Williams, "Through all of the changes over the years, we are pleased to continue to provide leadership in serving the urban community with a full mix of information and entertainment geared to its broad array of interests, now and in the future."
AURN's Executive Director, Marketing Research, Barry Feldman, adds that, "all three of American Urban's RADAR-measured networks draw audiences with African-American compositions that are about 50% higher than that of their nearest urban-targeted competitor."
RADAR (Radio's All Dimension Audience Research) is a national radio ratings service that measures national radio usage as well as audiences to radio commercials aired on 47 radio networks. RADAR 84, released in March 2005, was based on more than 80,000 Arbitron diary keepers.